Build Your Own Sleep System: Mattress & Adjustable Base, Split Cal King
We understand that everyone sleeps differently, and their mattress needs to reflect that.
Now you have the option to choose which mattress and adjustable bed are best suited for your sleep. Find the adjustable bed that best fits your budget and features, then choose the firmness level of your mattress. If you are a back or stomach sleeper you may want to choose a medium-firm, if you toss around a lot and end up sleeping on your side you may want to choose a medium soft, if you like that soft mattress feel we have a solution for that too. We manufacture our mattresses and adjustable beds to work together to provide you with a complete sleep system offering you comfort and support. If you have any questions regarding our adjustable beds or mattresses please call our sleep experts and we will be able to guide you in your purchase decision.
Product Information: 
12" Copper Gel Infused Premium Memory Foam Mattress, (Medium Firm)
12" Ananda Pearl and Cool Gel Infused Memory Foam Mattress, (Medium-Firm)
12" Zoned Reactive Cooling Memory Foam Mattress, (Medium)
12" Gel Infused Premium Memory Foam Mattress, (Plush)
Blissful Nights e3 Adjustable Base - Wireless Remote
Blissful Nights e4 Premium Adjustable Base - with Massage, Light, and More
Blissful Nights z4 Adjustable Base- Zero Clearance Designed for Storage Beds
Blissful Nights e6 Wall Hugger Adjustable Base - Massage, Alexa Voice Command & More
Ananda a7 Adjustable Base - with Pillow-Tilt, Alexa Voice-Command & More
See our Adjustable Base Comparison Chart for information
Good so far
We are happy with the bed so far
Extremely slow
I have not even recieved my bed yet.
I am extremely frustrated.
Build Your Own Custom Split Cal King Adjustable Sleep System with Base and Mattress
How to Recycle
Visit byebyemattress.com to search and locate a municipal pick up provider in your area. 
Monetary incentives are available in select states for consumer drop-offs to recycling cities. Limitations, restrictions, and no-cost drop-offs vary by state.

Municipal Pick Up 
Many local city and county governments provide municipal pick up services to remove bulky waste – including mattresses – from your home. Contact your local municipal to learn how curbside pick up of a bulky item works in your area. You may have a free pick up available. Policies vary and an appointment may be required.
Additional Recycling Fee by State
Recycling fees vary by state and are paid for by the consumer.
California $10.50
Rhode Island $16.00
Connecticut $11.75
California Residents 
Pursuant to California Law, effective January 1, 2021, all retailers that deliver a new mattress to a consumer in California must offer to pick up a used mattress and/or box spring at no additional cost to the consumer within 30 days of delivery. (1) mattress and/or (1) box spring are eligible for pick up for every (1) mattress purchased.
Pick up* 
If delivered by common carrier, such as FedEx or UPS, please contact 1-877-622-6550 to arrange a pick up within 30 days of delivery.
Drop-off 
California residents can drop off their old mattresses and box springs at no-cost to a participating collection site or event. Unit limits vary by location and residency restrictions may apply. We recommend contacting the location prior to drop-off.
Please visit byebyemattress.com for more information.
*Please have your mattress and/or box spring ready and bagged outside/curbside for a scheduled pick up. Contaminated mattresses posing a health or safety hazard are not eligible for pick up. Carriers have the right to refuse a pick up if a mattress and/or box spring is contaminated or poses a risk to personnel, new products, or equipment. 42992 section of the law. Due to COVID-19 some carriers may have suspended take-back services.
Build Your Own Sleep System: Mattress & Adjustable Base, Split Cal King
Speak to our sleep concierges:
Monday - Friday, 8:00am - 5:00pm PST
View Adjustable Bed Options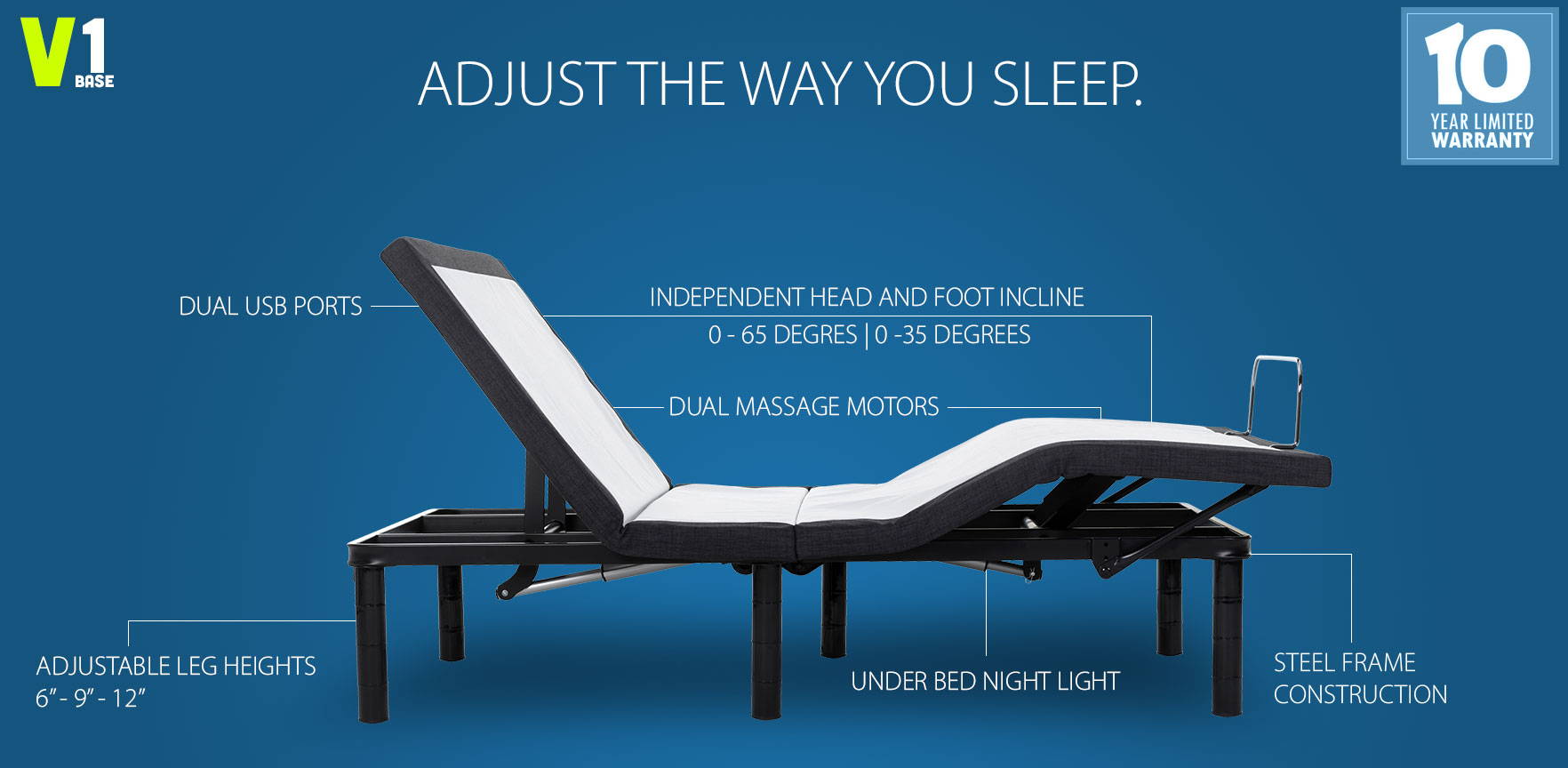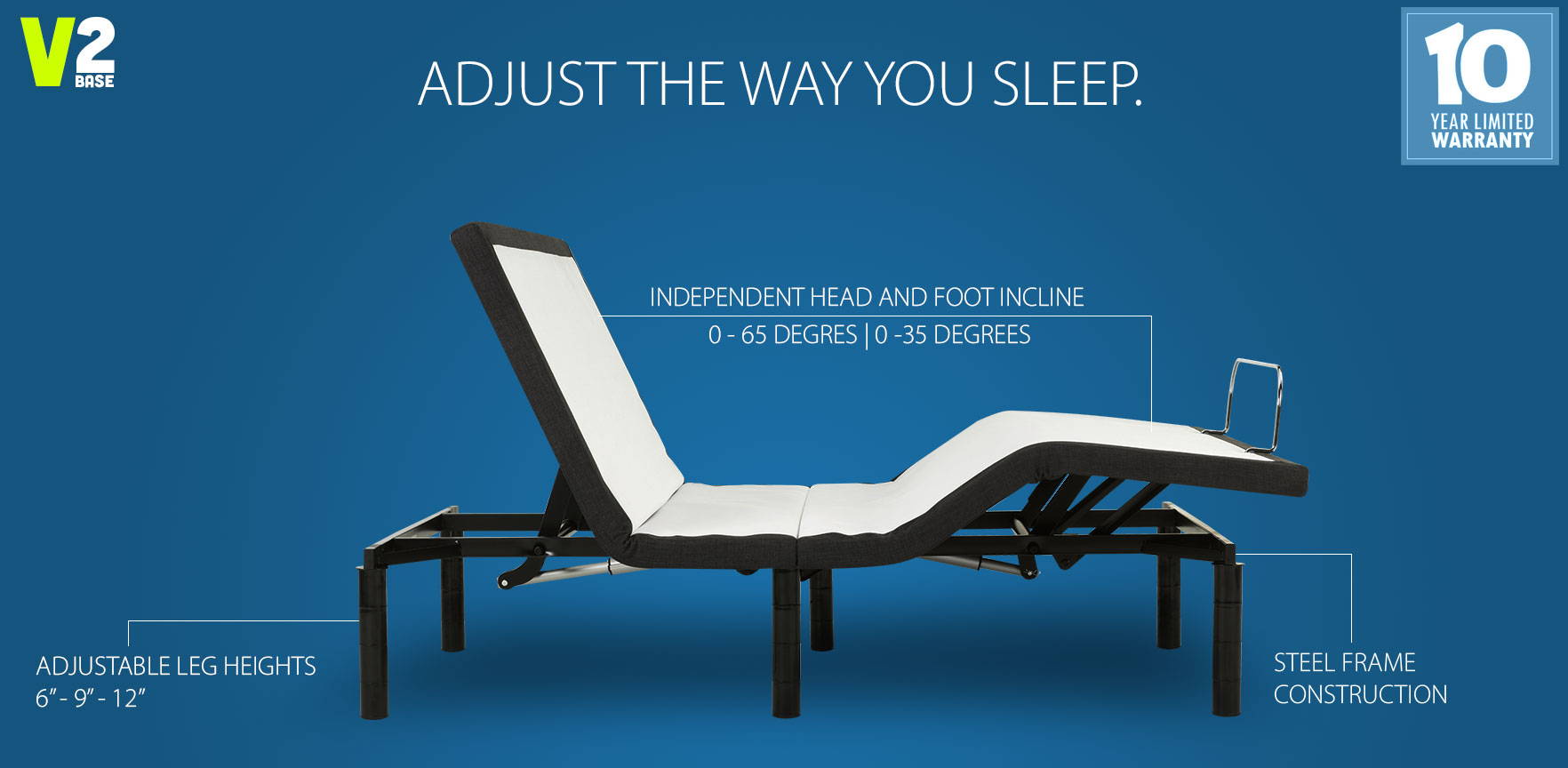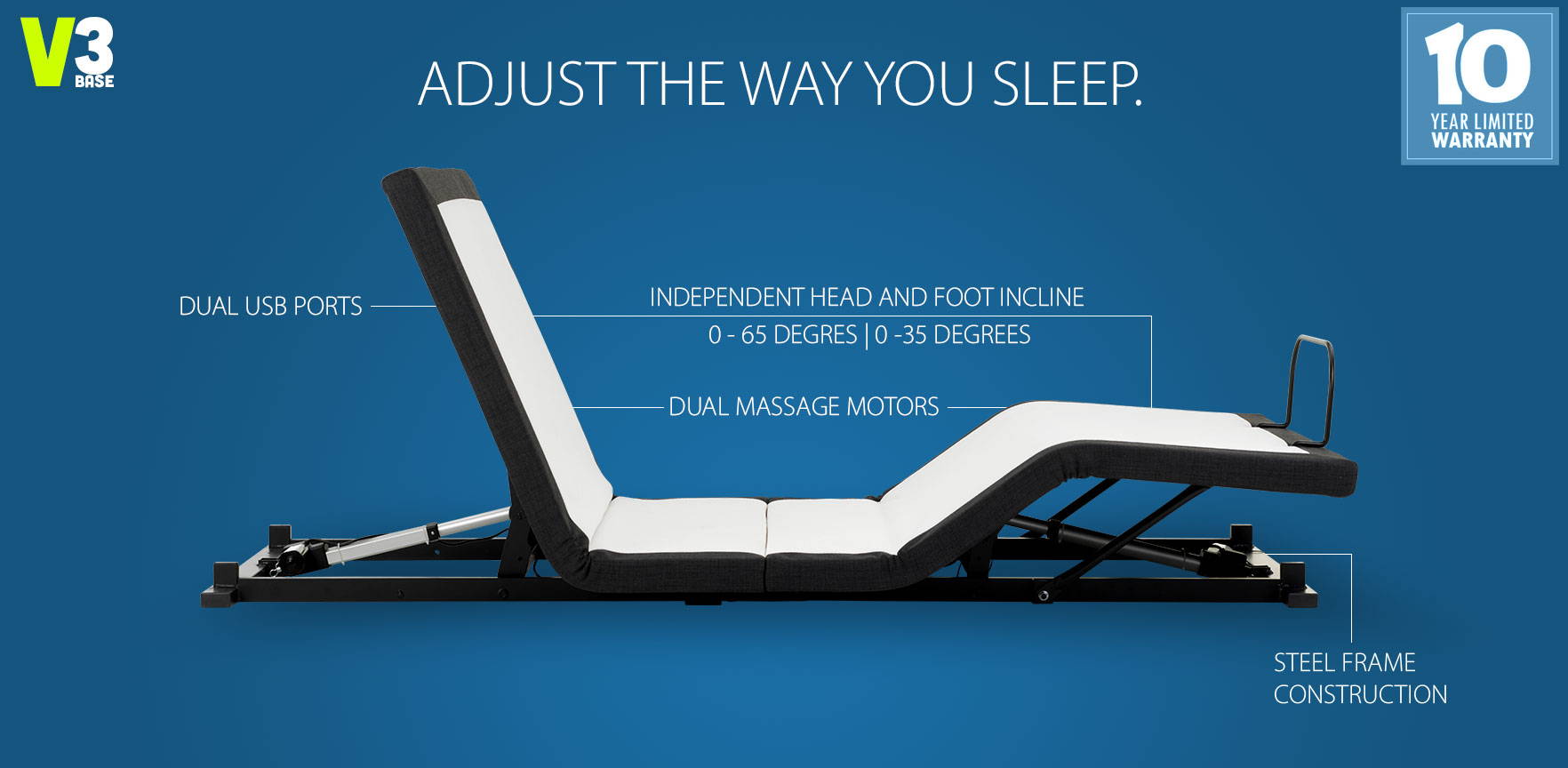 | | | | |
| --- | --- | --- | --- |
| Adjustable Base Features | V2 Adjustable Base | V1 Adjustable Base | V3 Adjustable Base |
| Head Up / Foot Up - Independent Incline | | | |
| | | | |
| Adjustable Legs 6" - 9" - 12" | | | |
| Sync Cable and Connection Brackets | | | |
| | | | |
| Zero Gravity, Anti Snore, Memory Presets | | | |
| | | | |
| | | | |
| Headboard Bracket Compatible | | | |
| Alexa/Google Voice Control Compatible | | | |
| 750lb Weight Limit - 10 year Limited Warranty | | | |