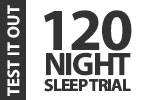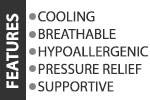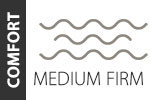 12" Ananda Pearl and Cool Gel Infused Memory Foam Mattress, Medium-Firm
This luxurious twelve-inch mattress is truly one-of-a-kind. It blends cooling gel and natural crushed pearls directly into the premium memory foam. Pearl & Gel memory foam is conforming yet supportive to relieve pressure points. The gel has cooling attributes that neutralize varying temperatures while you sleep and pearls have been used for centuries to aid in creating balance and energy. 
COMFORT RATING
MEDIUM-FIRM: BEST FOR BACK, STOMACH, AND SIDE SLEEPERS
Medium-Firm comfort rating: best for back, stomach, and side sleepers
2" Premium Pearl & Gel memory foam is conforming and supportive with cooling attributes
1" Comfort layer for added conforming comfort
2" Layer of Transition Foam for additional support
7" Flexible Air Channel Base has 1" grooves are cut to circulate air while releasing absorbed heat
Patented Edge Support System provides a stable sitting edge, 20% more sleeping surface, and extends the life of the mattress
Memory foam naturally conforms to the body, promoting proper circulation and spinal alignment
Cooling fibers are woven into the machine washable zip-off cover for a cool-to-the-touch feel and for neutralizing temperature variations during sleep
Comfortable
The mattress is very comfortable. It gives you the support you need. Very happy with our purchase.
This is the only bed company I deal with now..
This is a fantastic bed company and they sell a fantastic product. About a year or so ago we purchased a California split King with all of the features. After a while we decided that we would much rather just have a single mattress and were resigned to the fact that we would have to purchase an entire new bed. I called them at the factory and the gentleman told me no you do not have to buy an entirely new bed with a simple cable which they sent to me for free you can type both of the bases together and they will each work off a remote control so that they are synchronized. I purchased a premium mattress of the type that we used with the split King because bottom line it was the most comfortable bed we have ever slept on. It is firm, but I have never woken up with a backache with his bed. Softer beds they may feel good at first, but as soon as you wake up you are cooling off the bed because of back pain. They shipped the new bed to me very quickly and within a week we had an entire new bed for the cost of just a new mattress. This is a reputable company I purchased the original bed off of Amazon but got the cable and the new mattress directly from the factory. I am not paid by them I have no business relations with them this is an independent review. When you are happy, you are happy. They could have sold me an entire new bed but instead they were reputable and gave me a very good solution. If you cannot find a great adjustable bed from this company you will not find one from any company.
How to Recycle
Visit byebyemattress.com to search and locate a municipal pick up provider in your area. 
Monetary incentives are available in select states for consumer drop-offs to recycling cities. Limitations, restrictions, and no-cost drop-offs vary by state.

Municipal Pick Up 
Many local city and county governments provide municipal pick up services to remove bulky waste – including mattresses – from your home. Contact your local municipal to learn how curbside pick up of a bulky item works in your area. You may have a free pick up available. Policies vary and an appointment may be required.
Additional Recycling Fee by State
Recycling fees vary by state and are paid for by the consumer.
California $10.50
Rhode Island $16.00
Connecticut $11.75
California Residents 
Pursuant to California Law, effective January 1, 2021, all retailers that deliver a new mattress to a consumer in California must offer to pick up a used mattress and/or box spring at no additional cost to the consumer within 30 days of delivery. (1) mattress and/or (1) box spring are eligible for pick up for every (1) mattress purchased.
Pick up* 
If delivered by common carrier, such as FedEx or UPS, please contact 1-877-622-6550 to arrange a pick up within 30 days of delivery.
Drop-off 
California residents can drop off their old mattresses and box springs at no-cost to a participating collection site or event. Unit limits vary by location and residency restrictions may apply. We recommend contacting the location prior to drop-off.
Please visit byebyemattress.com for more information.
*Please have your mattress and/or box spring ready and bagged outside/curbside for a scheduled pick up. Contaminated mattresses posing a health or safety hazard are not eligible for pick up. Carriers have the right to refuse a pick up if a mattress and/or box spring is contaminated or poses a risk to personnel, new products, or equipment. 42992 section of the law. Due to COVID-19 some carriers may have suspended take-back services.
12" Ananda Pearl and Cool Gel Infused Memory Foam Mattress, Medium-Firm
Speak to our sleep concierges:
Monday - Friday, 8:00am - 5:00pm PST