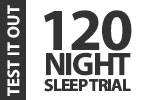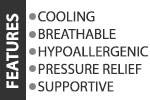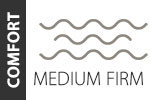 12" Copper Gel Infused - Split Head/Flex Top Premium Memory Foam Mattress, Medium Firm
COMFORT RATING
Medium: best for back, stomach, and side sleepers

Sleep cooler with our 12" Copper Infused memory foam mattress. By infusing the foam with copper it provides a source of conductivity to dissipate heat as you sleep as well as a supportive conforming sleep surface. Our team of bedding experts set out to create a quality mattress with some of the most advanced technologies to provide you with a better cooler sleep as well as develop a mattress that bends better with adjustable bases to give you the ultimate sleep system. With our multi-layered mattress, the sleep surface reduces pressure on critical areas of the body, including hips and shoulders, to prevent tossing and turning throughout the night. Our mattress is wrapped in a premium cover that can zip off for washing. CertiPUR-US Certified foam made without harmful substances like formaldehyde, mercury, and other heavy metals.
MATTRESS ONLY. ADJUSTABLE BASE NOT INCLUDED.
Don's review
I like the mattress, wish you offered one a little firmer.
So far so good....
Great price . Even better than that is the MATTRESS !!!! We just reurned a brand new sleep number we had the worst sleep in a long time saw this online it was so hard to find a mattress for are adjustable bed frame we had are doubts because it came in a box rolled up and it said wait 72 hours for it to expand .. WOW what a great mattress best mattress weve had thanks so much for the great mattress and the fourth of july sale .. well check back in a few months to let you know how its lasting A+ Thumbs up
No Aches or Pains
My last mattress was done. I would wake up aching every morning. I purchased an adjustable base and the king split flex head mattress and have enjoyed the comfort especially following surgery. No issues with delivery or white glove delivery and setup. I even asked an online question and received a prompt response. No complaints here.
How to Recycle
Visit byebyemattress.com to search and locate a municipal pick up provider in your area. 
Monetary incentives are available in select states for consumer drop-offs to recycling cities. Limitations, restrictions, and no-cost drop-offs vary by state.

Municipal Pick Up 
Many local city and county governments provide municipal pick up services to remove bulky waste – including mattresses – from your home. Contact your local municipal to learn how curbside pick up of a bulky item works in your area. You may have a free pick up available. Policies vary and an appointment may be required.
Additional Recycling Fee by State
Recycling fees vary by state and are paid for by the consumer.
California $10.50
Rhode Island $16.00
Connecticut $11.75
California Residents 
Pursuant to California Law, effective January 1, 2021, all retailers that deliver a new mattress to a consumer in California must offer to pick up a used mattress and/or box spring at no additional cost to the consumer within 30 days of delivery. (1) mattress and/or (1) box spring are eligible for pick up for every (1) mattress purchased.
Pick up* 
If delivered by common carrier, such as FedEx or UPS, please contact 1-877-622-6550 to arrange a pick up within 30 days of delivery.
Drop-off 
California residents can drop off their old mattresses and box springs at no-cost to a participating collection site or event. Unit limits vary by location and residency restrictions may apply. We recommend contacting the location prior to drop-off.
Please visit byebyemattress.com for more information.
*Please have your mattress and/or box spring ready and bagged outside/curbside for a scheduled pick up. Contaminated mattresses posing a health or safety hazard are not eligible for pick up. Carriers have the right to refuse a pick up if a mattress and/or box spring is contaminated or poses a risk to personnel, new products, or equipment. 42992 section of the law. Due to COVID-19 some carriers may have suspended take-back services.
12" Copper Gel Infused - Split Head/Flex Top Premium Memory Foam Mattress, Medium Firm
Speak to our sleep concierges:
Monday - Friday, 8:00am - 5:00pm PST