Blissful Nights e6 Wall Hugger Adjustable Base - Massage, Alexa Voice Command & More
Wall Hugger with Glide Technology Adjustable Bed Frame Moves the bed back 8" as you incline with Alex and Google Home Voice Command, Phone App, Massage, Anti-Snore, Zero Gravity, Dual USB Charging Station, Under Bed Nightlight, Wireless Remote Head and Foot Incline and No Tools Required Assembly

This premium wall hugger adjustable bed frame is equipment with all the latest features in sleep technology. All our adjustable beds are manufactured with quality materials and components and we back that up with a 10-year warranty. This adjustable bed features our wall glide feature, moving the bed back 8" as you recline so that you care closer to your night stand than our standard adjustable beds, you also get dual massage motors to evenly distribute the feature through the mattress to each side of the bed, you will also find dual USB ports on each side of the adjustable bed frame that are placed at the head so that they are still usable even in a bed frame. Included in the box you will find a back-lit wireless remote with memory settings to allow you to simply adjust your sleep position to support each activity you may do in bed, such as eating, reading, watching TV or having to work. Adjustable beds offer you optimal comfort and can alleviate body and joint pains along with reducing moderate snoring. When you raise your feet above your heart known as the zero-gravity position you can increase blood circulation, reduce your stress and soreness in the body.
Alexa Enabled and Google Home voice command allows you to adjust your adjustable bed hands free. Simply connect your Alexa or Google Home and speak directly to the base. "Alexa tell my base to Zero Gravity"
Adjustable legs allow you to customize the frame height - 6", 9" or 12"
Wall Glide feature puts you 8" closer to your nightstand
Each base features a 750lb weight limit
Anti Snore & Zero Gravity Presets
Custom Memory Preset Positions
Functions include: 
• Back-lit Wireless remote - 1 remote for Twin XL/Queen & 2 remotes for King/Cal-King
• Wall Glide Feature - Allows the base to move back 8" as your recline putting you closer to your nightstand.
• Integrated voice command works with Alexa and Google Home, and phone app for Apple iOS and Android
• Integrated dual massage motors melt away tension and increase circulation.
• Dual USB (4) ports in total.
• Under bed nightlight located on the sides and foot for increased illumination.
• Mattress foot retainer bar and non-skid.
• Quick and easy setup and no tools required
• Ships Small Parcel – Boxes are heavy, team lifting is recommended
• Upholstered in black linen like fabric with non-skid deck material
• Whisper quiet motor and operating system
• UL tested
• Back-up battery power box included
• Meets 16 CFR Part 1633 Federal flammability (open flame) standards.
• Patented 4-piece adjustable legs for customizable to fit in your existing bed frame.
• 10-year limited manufacturer's warranty
Wall hugger feature.
We have not tried connecting to Alex and probably won't. All the other features are working fine with the exception of the wall hugger. Even though it move back approximately 6" we are still way too far forward and makes it very difficult to reach our water on the night stands when in the upright position. Also because of our sleigh bed, we had to use all the leg extensions which made it a little high. If you had included 1" and 2" extensions with the frames, then we could have lowered it to a more acceptable height making it more versatile.
Great Product
Our bed arrived quickly and was quite easy to setup and feels sturdy. The remotes work great. The Alexa integration is a little spotty and I have not figured out how to get it to work with both sides of the split king. I'm not sure how much I will use it if I do figure it out. Overall we are very pleased.
Blissful Nights E6
This is a great bed overall. I would give it 5 stars were it not for the mediocre app and its poor integration with Alexa. The Ronin WIFI app is not good and the bed is not listed as a device on Alexa, which decreases compatibility. There is also a mess with the presets. I contacted customer service but they did not reach back to me. With trial and error, I concluded that Preset 3 on Alexa is actually Preset 2 on the remote, and Preset 2 on Alexa is actually Preset 1 on the remote. It seems that the app is not even fully compatible with this bed itself!
Blissful Nights e6 Wall Hugger Adjustable Base - Massage, Alexa Voice Command & More
Speak to our sleep concierges:
Monday - Friday, 8:00am - 5:00pm PST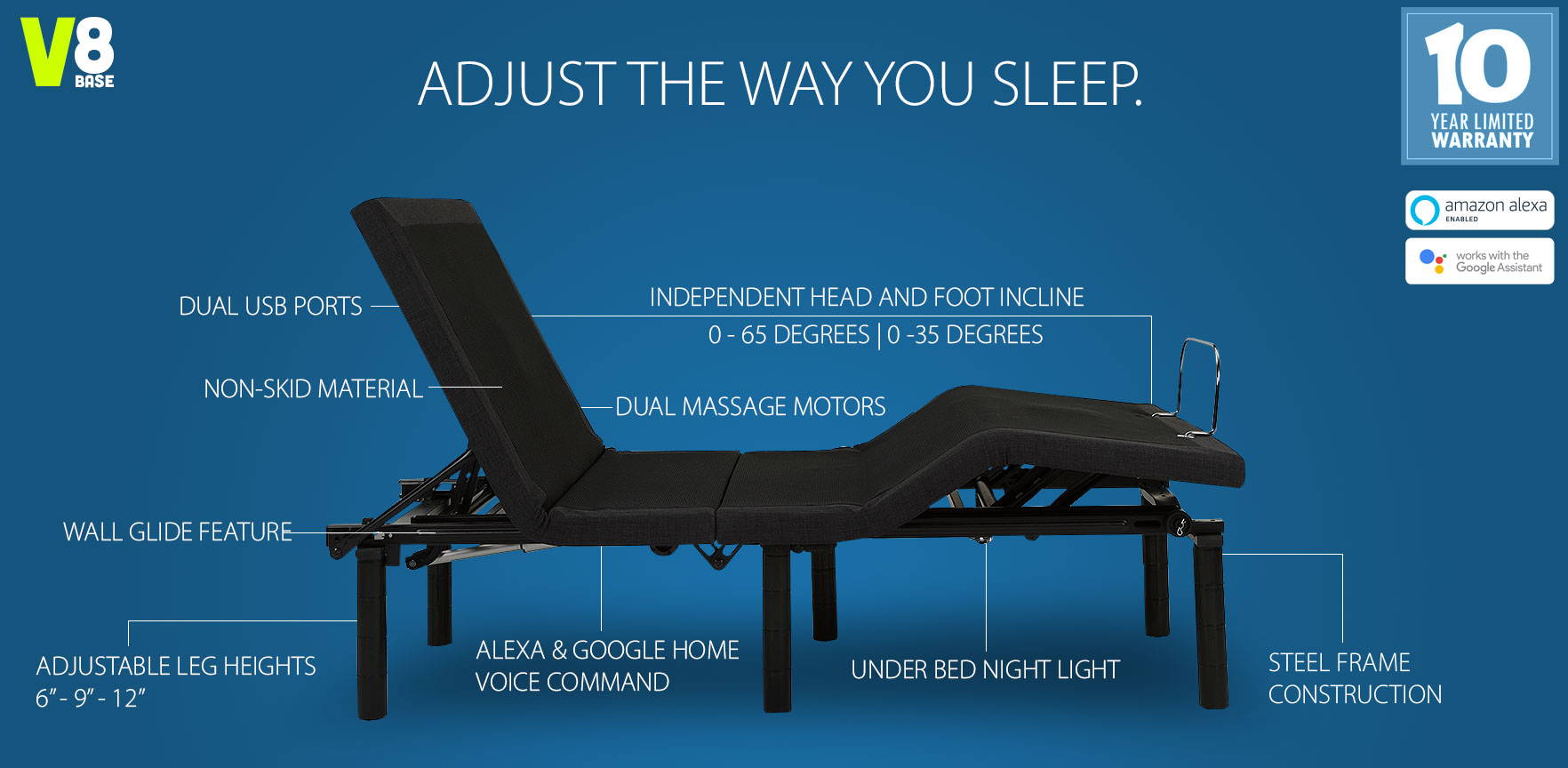 The Blissful Nights Adjustable Base is warranted against defects in materials or workmanship for a period of one year from the date of purchase to the original purchaser. During the first year, Blissful Nights will repair or replace, at no cost to the original purchaser, any defective part This includes all authorized labor and transportation costs incurred with the repair or replacement of any parts found to be defective.
---
The Blissful Nights Adjustable Base has a two-year, full replacement warranty, parts, labor, and transportation; on the motor should the motor(s) fail during the first two years of this warranty from the original purchase date.
---
During year 2 through year 5, from the original purchase date, Blissful Nights will replace any bed part, to the original purchaser, found to be defective. The part must be returned within fourteen (14) days of receipt of the replacement part(s) or purchaser may be subject to charges for said part(s) to include, but not limited to freight charges. Liability of Sleep Science is limited to the replacement of the defective part or parts ONLY with purchaser responsible for all service, installation and transportation costs of said part(s).
---
During year 6 through year 10 from the original purchase date, Blissful Nights will replace, per the terms and conditions set forth in this paragraph, any bed part found to be defective. Purchaser shall pay 1 /180 of the current replacement cost of the defective part multiplied by the number of months, after the fifth (5th) year, from the original purchase date. This warranty applies only to replacement part(s). The purchaser may be subject to charges for said part(s) to include, but not limited to, freight charges. Liability of Sleep Science shall be limited to the replacement of the defective part(s) only with purchaser responsible for all service, installation and freight costs of said part(s).
---
ADDITIONAL TERMS AND CONDITIONS
Warranty does not include reimbursement for inconvenience, removal, installation, set up, loss of use, shipping, or any other costs or expenses not expressly covered in this warranty. This warranty does not apply:
To damage resulting from misuse or abuse caused by the purchaser.
To damage caused by the repairs or parts replacement by an authorized person.
If the Sleep Science Adjustable Base has been mishandled (including during shipping), subject to physical abuse or an improper power supply, or otherwise operated in a manner inconsistent with procedures outlined in the owner's manual and warranty.
To damage to mattresses, bedding, cables, electrical cords, or accessories supplied by dealers.
To modification of the Sleep Science Adjustable Base without prior written consent by Sleep Science.
To costs for unauthorized service calls for educating the consumer about the Sleep Science Adjustable Base or locating properly functioning power outlets.
If the recommended weight restrictions are exceeded.
If used in any environment or a commercial setting for which it was not intended. Some states do not allow the exclusion of incidental or consequential damages; therefore, the above limitation or exclusion may not apply. This warranty gives the purchaser specific legal rights. The Purchaser may have the other rights, which may vary from state to state. This warranty is valid in the 48 continuous states.