Ananda Sleep System: 13" Cool Gel and Pearl Infused Hybrid Mattress, Medium-Soft & Ananda a7 Adjustable Base with Pillow-Tilt
Mattress designed and assembled in California. Enjoy quality luxury products, developed to enhance your overall sleep wellness.
The 13" Ananda Hybrid Mattress is designed with temperature regulating materials to provide you the best in support, comfort and cooling.
This luxurious 13-inch hybrid mattress is designed for a long lasting cool supportive sleep. It blends infused cooling gel and natural crushed pearls directly into the premium memory foam. Unique cooling fibers are woven into the cover, which neutralizes temperature variations while you sleep and aids in falling asleep faster. The individually wrapped coils enhace the supportive structure of this one-of-a-kind mattress.
SMART ADJUSTABLE BED AND MATTRESS SET: Enjoy our luxurious 13" Hybrid mattress with gel and pearl infused premium memory foam and wrapped in a cool to the touch machine washable cover. Enjoy plush contouring breathable foam that works hard to move moisture and heat away from your body all night long.
WIRELESS REMOTE: Enjoy endless sleeping positions with our head-tilt adjustable bed frames with Alexa Voice Command. Take the pressure off your lower back, enjoy watching TV in the lounge position, or relax in zero gravity. The Ananda adjustable bed base constructed from heavy-duty steel offers an 800lb weight limit per base and adjustable leg heights of 6", 9" and 12". Easily fits into your existing bed frame.
BALANCE. ENERGY. SLEEP: The Ananda 13" Hybrid Mattress is great for side, back, and stomach sleepers. Made with CertiPUR-US foams free of flame retardants, heavy metals, formaldehyde, and phthalates. Enjoy our patented Edge Support to prolong the mattress's life and increase the sleeping surface. Try it for 120-Nights if you are not in love with it, contact our Comfort Concierge, and we will take care of the rest.
SLEEP CLEAN AND COOL: Quality sleep that's cool to the touch. The Ananda mattress cover is made with innovative cooling fibers woven into our machine washable cover. Foam Encased Coils increase the sleeping surface, reinforce the mattress edges, and the coils' integrity, which extends the life of the mattress. Coils provide excellent support and airflow, keeping you cooler while you sleep.
QUALITY GUARANTEED: Mattress assembled in the USA with a 10 Year Limited Warranty. The mattress comes compressed and rolled in a box for easy shipping and setup. The Ananda Smart Adjustable Bed Frame comes with a 10 Year Limited Warranty. Each base requires no tools to assemble and ships in one box. Boxes are heavy and may need assistance to move into place.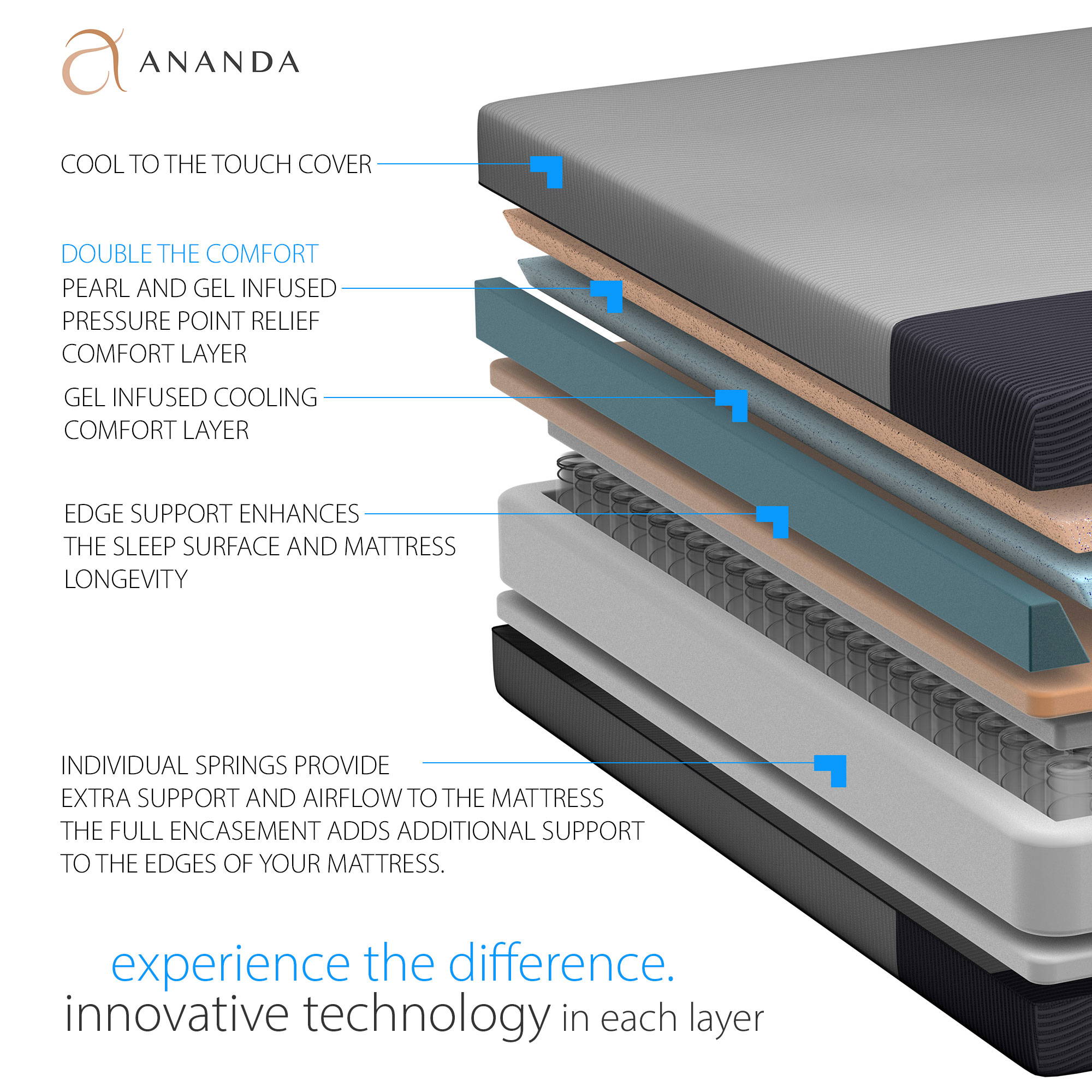 Exceeds Expectations
I waited 5 months to do this review so I could give an accurate opinion. I have a bad back so I've owned water beds, memory foam, pillow top and top of the line hybrid mattresses. This bed by far exceeds my expectations and is the most comfortable bed I've owned for a fraction of the price. It is so back friendly and I get a wonderful nights sleep.
Nice and easy
This bed is probably the best bed I have ever owned. I would recommend it to anyone. I am a very busy person and I haven't had a chance to sleep in yet but that's all I wanna do.
13" Ananda Cool Gel and Pearl Infused Hybrid Mattress with Ananda Head Tilt Adjustable Bed Base Combo Set
How to Recycle
Visit byebyemattress.com to search and locate a municipal pick up provider in your area. 
Monetary incentives are available in select states for consumer drop-offs to recycling cities. Limitations, restrictions, and no-cost drop-offs vary by state.

Municipal Pick Up 
Many local city and county governments provide municipal pick up services to remove bulky waste – including mattresses – from your home. Contact your local municipal to learn how curbside pick up of a bulky item works in your area. You may have a free pick up available. Policies vary and an appointment may be required.
Additional Recycling Fee by State
Recycling fees vary by state and are paid for by the consumer.
California $10.50
Rhode Island $16.00
Connecticut $11.75
California Residents 
Pursuant to California Law, effective January 1, 2021, all retailers that deliver a new mattress to a consumer in California must offer to pick up a used mattress and/or box spring at no additional cost to the consumer within 30 days of delivery. (1) mattress and/or (1) box spring are eligible for pick up for every (1) mattress purchased.
Pick up* 
If delivered by common carrier, such as FedEx or UPS, please contact 1-877-622-6550 to arrange a pick up within 30 days of delivery.
Drop-off 
California residents can drop off their old mattresses and box springs at no-cost to a participating collection site or event. Unit limits vary by location and residency restrictions may apply. We recommend contacting the location prior to drop-off.
Please visit byebyemattress.com for more information.
*Please have your mattress and/or box spring ready and bagged outside/curbside for a scheduled pick up. Contaminated mattresses posing a health or safety hazard are not eligible for pick up. Carriers have the right to refuse a pick up if a mattress and/or box spring is contaminated or poses a risk to personnel, new products, or equipment. 42992 section of the law. Due to COVID-19 some carriers may have suspended take-back services.
Ananda Sleep System: 13" Cool Gel and Pearl Infused Hybrid Mattress, Medium-Soft & Ananda a7 Adjustable Base with Pillow-Tilt
Speak to our sleep concierges:
Monday - Friday, 8:00am - 5:00pm PST