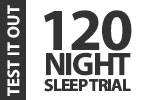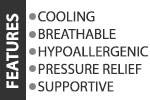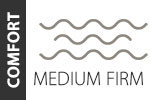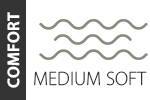 Blissful Nights Sleep System: 9" Dual Comfort Talalay Natural Latex Flippable Mattress, Medium-Soft with e4 Premium Adjustable Base




120 -night, risk-free trial*
Have a question? We are here to help
Mattress Designed and Assembled in the USA
Enjoy two comfort levels with our 100% Talalay Latex Mattress
The 9" Medium Soft and Medium Firm Reversable Natural Latex Mattress is made using the Talalay process and is 100% natural along with an organic cotton cover; a zipper has also been included for easy spot cleaning. This premium product provides conforming yet buoyant support with excellent temperature neutralizing benefits. The mattress does not contain any chemicals, synthetics, pesticides, or herbicides, it is truly natural latex with great benefits for you and the environment. The Model P Adjustable Bed Base allows you to transform your bedroom into the ultimate sleeping and lounging sanctuary. Ease stress and reduce soreness with preset positions, customizable positions, and dual massage located at the head and foot. Lounging in bed has never been so comfortable and convenient. LED lighting under the bed gently illuminates the surrounding floor making it easier to see at night and easy to reach USB ports keeps your electronics close-by, charged and ready to go. Our Adjustable Bed Base is changing the way you lounge and sleep.

Great bed, it is better than I expected
Great bed, it is better than I expected
I Finally Found the Perfect Bed
I absolutely love this bed. I was beginning to think I would never find a mattress that would suit me. I'm so glad I took a chance on this one. Others were either too hard or too soft. I also love the adjustable frame. For me, this is the perfect bed.
Lori
I have had insomnia for years now due to a severe back injury. I can't lay flat, nor can I lie on my right side due to a torn rotator cuff. I was worried about spending so much on a bed but I realized how important it is to be comfortable and to sleep so I took a chance (because of the ability to send it back if I didn't like it) and bought the bed.

I bought the California Split King Adjustable bed. This bed is the best bed i have ever had. It is so comfortable! You can adjust the bed in so many positions there is definitely a favorite for anyone. The bed has a massage function (one for each side of the bed) and as soon as I turn it on I relax and my muscles feel better. My cars love the massage feature as well (so does my husband lol) and when I turn it on my cats fight to lay on my chest while the massage function is on. When it goes off they sleep beside me:).

I am so glad I bought this awesome bed! I enjoy going to bed now as even if I can't sleep sometimes (although I sleep 50% better in this bed then I used to) I can lay in the bed in comfort and at least rest my body. Rest assured you will love this bed too!
How to Recycle
Visit byebyemattress.com to search and locate a municipal pick up provider in your area. 
Monetary incentives are available in select states for consumer drop-offs to recycling cities. Limitations, restrictions, and no-cost drop-offs vary by state.

Municipal Pick Up 
Many local city and county governments provide municipal pick up services to remove bulky waste – including mattresses – from your home. Contact your local municipal to learn how curbside pick up of a bulky item works in your area. You may have a free pick up available. Policies vary and an appointment may be required.
Additional Recycling Fee by State
Recycling fees vary by state and are paid for by the consumer.
California $10.50
Rhode Island $16.00
Connecticut $11.75
California Residents 
Pursuant to California Law, effective January 1, 2021, all retailers that deliver a new mattress to a consumer in California must offer to pick up a used mattress and/or box spring at no additional cost to the consumer within 30 days of delivery. (1) mattress and/or (1) box spring are eligible for pick up for every (1) mattress purchased.
Pick up* 
If delivered by common carrier, such as FedEx or UPS, please contact 1-877-622-6550 to arrange a pick up within 30 days of delivery.
Drop-off 
California residents can drop off their old mattresses and box springs at no-cost to a participating collection site or event. Unit limits vary by location and residency restrictions may apply. We recommend contacting the location prior to drop-off.
Please visit byebyemattress.com for more information.
*Please have your mattress and/or box spring ready and bagged outside/curbside for a scheduled pick up. Contaminated mattresses posing a health or safety hazard are not eligible for pick up. Carriers have the right to refuse a pick up if a mattress and/or box spring is contaminated or poses a risk to personnel, new products, or equipment. 42992 section of the law. Due to COVID-19 some carriers may have suspended take-back services.
Blissful Nights Sleep System: 9" Dual Comfort Talalay Natural Latex Flippable Mattress, Medium-Soft with e4 Premium Adjustable Base
Speak to our sleep concierges:
Monday - Friday, 8:00am - 5:00pm PST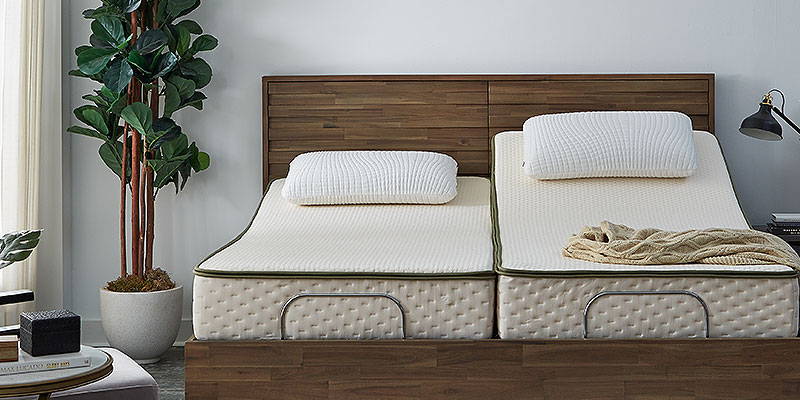 MATTRESS FEATURES
• Medium & Firm comfort rating: best for back, stomach and side sleepers
• Flippable two-sided mattress for multiple comfort levels
• 3" Natural Talalay Latex - Medium Soft
• 6" Natural Talalay Latex - Medium Firm
• Blended organic cotton cover with non-chemically treated fire retardant and a zip-off cover for spot cleaning
• All natural Talalay Latex is Oeko-Tex Standard 100 certified and made in the USA
ADJUSTABLE BASE FEATURES:
• Adjustable legs heights at 6", 9", or 12"
• Back-up battery power box included
• Dual massage at the head and/or foot with 3 intensity levels
• Foot Retainer Bar to keep the mattress in place
• LED underbed lighting borders the underside of the base for ambient lighting
• Sync Cables allow for functionality on independent sides, companion side or both sides; required for synchronized movements with solid King and Cal King mattresses
• Four USB charging ports. Eight for Split King and Split Cal King Sets
• Upholstered in a dark contemporary fabric
• WiFi Adapter compatible; controls the base in multiple ways: A remote control app and/or by voice command using Amazon Alexa or Google Home. WiFi adapter and smart devices are sold separately and are required for voice command functionality.
• One wireless 14-button remote control; batteries included (two wireless remotes for Split King & Split Cal King sets)
• Head/Footboard Brackets sold separately
ADJUSTABLE BASE POSITIONS:
• Head up/down & foot up/down articulation
• Pre-programmed positions: flat, anti-snore, zero gravity, and flat position
• 3 custom programmable positions. Hold button for 5 seconds to program current position and go back to position with touch of a button
SET-UP, DELIVERY, SAFETY, & WARRANTY:
• The mattress is rolled and compressed
• Oeko-Tex Standard 100 certification, the mattress has been tested and certified to be free from harmful levels of more than 100 substances known to be harmful to human health • Meets 16 CFR Part 1633 Federal flammability (open flame) standards
• UL tested
• 10-year limited manufacturer's warranty; the only way to protect your mattress from liquid spills is by using a waterproof mattress protector, spills do not qualify for warranty replacements
• 750 Lbs. weight limit for Queen Base and 1500lbs for Split Bases